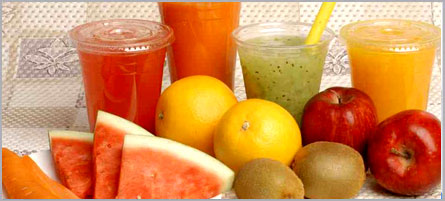 Carrot Apple Juice (Serves 2)
Ingredients
8 carrots, scrubbed and sliced
3 apples, sliced
½ teaspoon ginger (crushed)
Method
blend in a blender and serve.
Cucumber-apple juice
Ingredients
Method
Blend in a juicer
Carrot-celery juice
Ingredients
3 carrots
1 tablespoon chopped celery
1 tablespoon chopped parsley
Method
Blend in a juicer
Pineapple-apple juice
Ingredients
1 bowl chopped pineapple and apple
Method
Blend in a juicer
Fresh Lemonade (Serves 2)
Ingredients
2 small lemons (squeeze out the juice)
75 grams sugar (powdered)
400 ml.water
Salt to taste
Method
Mix the ingredients.
Citrus Cooler (Serves 1)
Ingredients
¼ glass pineapple juice
¼ glass orange juice
¼ glass sweet limejuice
Bend and serve.
Soya and Saffron Cooler (Serves 2)
(Saffron contains Saffronal, Cinelle and Crocins, which are known to have anti-depressant and mood enhancing properties)
Preparation time: 10 minutes
Ingredients
2 glasses soya milk
3 tablespoons honey
1-tablespoon saffron (soak in warm water for 5 minutes)
2 tablespoons almonds (ground)
Ice
Method
Blend soya milk, honey and saffron in a blender. Whiz until smooth. Add ground almonds, a few strands of saffron (optional) and ice. Serve.